As you step out into your garden, you envision a peaceful and calm space where you can unwind and relax after a long day. The design of the walkways through the garden is crucial in creating the perfect atmosphere. While traditional floor paving tiles have been popular for years, the rise of outdoor paver tiles has taken the market by storm!
With so many options, selecting the right tiles for your outdoor space can be overwhelming. But fear not because the answer is simple – floor paver tiles! These tiles are designed specifically for outdoor use and are thicker and sturdier than traditional tiles. The rustic and beautiful pavers tiles design, and their eco-friendly qualities make them the perfect choice for any outdoor pavement.
So, let's get deep insights into the world of paver tiles and discover how they can transform your outdoor space!
Outdoor Tiles vs Pavers
Here is some major difference Between Pavers and Tiles that you should know about: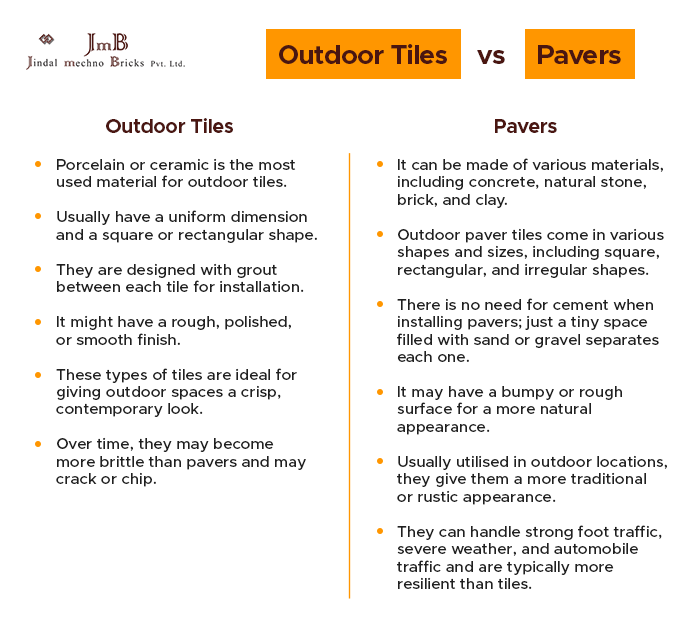 Additional points:
Porcelain or stone tiles combined with pavers form outdoor paving tiles.
Often used to build pathways, patios, and driveways, pavement bricks are a form of paver composed of clay or concrete.
Why Are Brick Pavers Better Than Tiles For Outdoor Use?
Brick pavers tiles are often preferred over tiles for outdoor use for several reasons:
Easy to Install
Floor paving tiles are a popular choice for outdoor decor. But due to its simplicity of installation, many homeowners like outdoor floor bricks. Outdoor floor bricks can be set directly on the ground, unlike outdoor paving tiles, which need a concrete base and grout. Although some preliminary work, such as levelling the ground and adding a layer of sand or gravel, is required, the installation procedure is generally easier and quicker.
Pavers Tiles are Affordable
Consider using tile pavers if you're seeking an affordable and low-maintenance solution for your outdoor flooring. Because they are sturdy and available in various sizes and forms, concrete paver tiles are a popular option.
Outside pavement tiles are the best option for outside use because they are made to be slip-resistant and survive harsh weather conditions. Pavers are an even more affordable option than other tiles because of how simple they are to install and how little care they require.
Evergreen Colour
One of the tile pavers' major features is their everlasting colour. Brick pavers are meant to endure the environment and maintain their original colour, unlike other materials that may fade or change colour over time. The bricks' colour is deeply ingrained into the material during the firing process, ensuring it won't deteriorate or fade over time.
Floor paving tiles are a fantastic long-term investment because they maintain their original colour and shape even after years or even decades of use. Additionally, pavers can be coloured to match any style or choice in design, guaranteeing that your outdoor area will look fashionable and classic for many years to come.
Outdoor Pavement Tiles are Durable
Durability is important when it comes to outdoor surfaces, and tile pavers deliver on this front. They are extremely durable and resistant to weathering, erosion, and heavy foot or vehicle traffic, thanks to their construction material, whether it be concrete or clay.
Outdoor paving tiles are strong and durable because of the method of production, which involves a high-temperature fire or curing process. Rain and snow exposure won't result in water damage or mould growth because they can endure it. Outdoor pavement tiles are also chemical-resistant, making them a great option for pool areas, patios, and driveways where exposure to chemicals is frequent.
Conclusion
In conclusion, when it comes to outdoor paving, paver tiles are a superior choice to outdoor paving tiles. Pavers are consistent, durable, beautiful, and can hold a lot of foot traffic. An aesthetically pleasing option for your outdoors, tile pavers are a much better alternative to tiles for any of your projects, be it a hotel, a garden, or even your home.
Therefore, if you're looking for a long-lasting and practical solution for your outdoor flooring needs, consider tile pavers for a stylish and functional outdoor space.
If you are looking for the best pavement bricks manufacturing company, Jindal Mechno Bricks uses the latest technology and international standard machinery to create consistent quality in pavers. They are famous brick manufacturers who deliver the best quality bricks at affordable prices. Get in touch with our experts today!
FAQs
What is the difference between paver tiles and outdoor paving tiles?
Pavers tiles are made of concrete or clay; paver tiles are extremely strong, water-resistant, and chemically inert. On the other hand, outdoor pavement tiles might come in various materials and might not be as strong or weatherproof.
How long do paver tiles last in outdoor environments?
Heavy foot and vehicle traffic, weathering, erosion, and exposure to chemicals and water are all things that paver tiles are made to survive. Paver tiles can last for many years with correct installation and upkeep.
Are paver tiles difficult to install?
Installing tile pavers is not too difficult, especially compared to other outdoor flooring choices. Their interlocking nature makes putting and adjusting them simple, and they can be laid directly on the ground without a cement base.
Do paver tiles require a lot of maintenance?
Paver tiles require less maintenance and care. In order to keep them clean and fragrant, regular sweeping and occasional power washing is required.
Can paver tiles be used for both residential and commercial outdoor spaces?
Paver tiles can be utilised for both residential and commercial outdoor settings, making them a flexible alternative for outdoor flooring. They are appropriate for aesthetically pleasing design and useful uses because of their various sizes, shapes, and colours.