As the summer heat approaches, many of us search for ways to keep our homes and loved ones cool and comfortable. If you are one of them, look no further than roof cooling tiles. These tiles are an excellent option, especially in warmer climates such as India, where the burning sun can make life intolerable. They not only keep your home cool but also save energy.
Using cool roof tiles helps to control the temperature of the building. These tiles are known for preventing heat absorption by reflecting the heat and emitting radiation into the atmosphere. Therefore if you're wondering how to cool your roof in the summer, rooftop cooling tiles might be the solution you've been looking for. They will help create a calming environment at home while saving energy and money.
You can opt for various roof cooling techniques to get the benefits of cool roof tiles. These techniques help reflect more sunlight than conventional roofs, lowering the temperature of the building by 2 to 5℃.
In this article, learn the most powerful and useful roof cooling techniques to beat the heat and enjoy a comfortable summer. So, let's dive in and explore the benefits of having roof tile for summer!

Why Are Clay Roof Tiles Considered the Best Roofing Option to Reduce the Heat in Summer? 
Clay roof tiles have a Solar Reflective Index (SRI) of 50% and thermal emittance of up to 86%. The higher the value of the SRI, the cooler your home will be. The best part is they are a fantastic green roofing option, as they are durable and recyclable. They withstand the extreme temperature of warmer places and provide a cooling effect in the indoor environment.
As you know, clay roof tiles are the best roof tiles to reduce heat from the roof. Let's find out the benefits of cool roof tiles during the summer.
Benefits from Cool Roof Tiles That Protect Your Home From the Summer Heat
The one question that might bother you is how to cool the roof for the existing terrace in summer. It is easy to opt for the best cooling tiles for the terrace with clay roof tiles to reduce heat from the roof and give a cooling effect to your house. Whether you are building a new home or want roof cooling for your existing terrace, you can do both.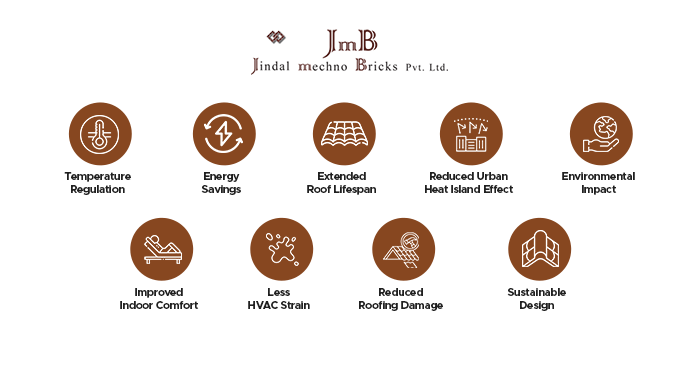 There are a variety of collections of roof cooling tiles that come in different colors and sizes. At Jindal Mechno Bricks, you can find Terracotta 50mm, Beige 50mm, and Terracotta 80mm. You can select the size and color of the roof tiles according to your requirement.
Application of Tiles in Various Areas of the Home to Protect From Summer Heat
You can use roof cooling tiles in different areas of the home to lower the effects of heat and keep your home cool during the summertime. You can use the best cooling tiles for terraces, balconies, exterior facades, cladding, and pavements. Some of the best heat-resistant tiles for a roof that also give your house a pleasant look are the following:
Cladding Tiles: Cladding tiles protect your home or office from the extreme summer heat and provide a beautiful look to your exterior and interior walls. They are durable, require less maintenance, and the color does not fade away for years. At Jindal Mechno Bricks, they are coated with silicon before delivery to the site to protect them from algae deposits and watermarks. The cladding tiles also come in many colors and sizes.
Pavement Tiles: Pavement tiles look elegant and provide a warm look to your house. They give your home a beautiful look and protect it from the heat during the summer. They come in different colors, like chocolate, beige, and terracotta.
Conclusion
To sum up, protecting your home from the summer heat is important for your comfort and energy savings. So, choosing the best roof tile for your house can give you the most comfortable living experience during summertime.
Make your home a place of a relaxed and comfortable experience with the aesthetic appeal and beauty of tiles from Jindal Mechno Bricks. Let your summers feel like a cool breeze with our top-notch quality and world-class products. As a brand, we follow stringent quality checks before dispatch, and also, reputed labs test the performance of products. So what are you waiting for? Contact our experts to know more about roof tiles prices and much more. 
FAQs
Q 1. What are the benefits of using roof tiles to protect your home from the summer heat?
Ans: Roof tiles may help in controlling the temperature inside your house. This makes the house less warm, uses less power, and makes it more comfortable.
Q. 2 What type of roof tiles is the best for protecting homes from the summer heat?
Ans: So many cool roof tiles are available, but some of the best options for hot climates include clay, concrete, and terracotta tiles. These tiles have outstanding heat-reflecting properties, which can help lower the heat absorption into your home.
Q. 3 Are roof tiles easy to install?
Ans: The roof cooling tiles installation process can be complex. You should hire a skilled professional to install them. However, the installation process can differ depending on the type of tile used and the size of your roof.
Q. 4 Can roof tiles help increase the value of your home?
Ans: Yes, installing high-quality roof tiles can increase your home's worth by enhancing its appearance and energy efficiency. It could boost the value of your house when you decide to sell it by increasing its appeal to prospective buyers.