Do you believe that brick walls in modern homes may appear excessively gritty or impersonal? Then, it's time to widen your perspective. This industrial wall design trend has started to show up in contemporary interiors. Brick wall designs are very adaptable and reasonably priced, adding a rustic-chic feel to modern living rooms or making the ideal facade for the front of the house.
We put a lot of attention into the details to bring a room to life, from the proper colours to the perfect furniture to the finest décor and furnishings. In order to create spaces that reflect who we are, we choose the ideal sofa, the best lamp, and the art that speaks to us. We begin to realise how crucial a role walls may play in the overall look of our houses when we see them as the canvas themselves.
Exposing the underlying brickwork is a fantastic way to jazz up your plain walls. Brick wall designs are versatile and complement a wide range of interior design aesthetics. Exposed brick walls may give a space a rustic, earthy character while inventive brick wall patterns or bondings can serve as an architectural feature. Glass brick wall dividers offer seclusion without obstructing light, while painted brick walls add colour and complexity to an otherwise plain surface.
The classic, modern, industrial, eclectic, minimal, Scandinavian, farmhouse, bohemian, etc. settings all blend well with these exquisite brick wall designs. Read this piece to learn more about trendy ways to incorporate brick wall patterns into your home.
Get to Know the Different Types of Brick Walls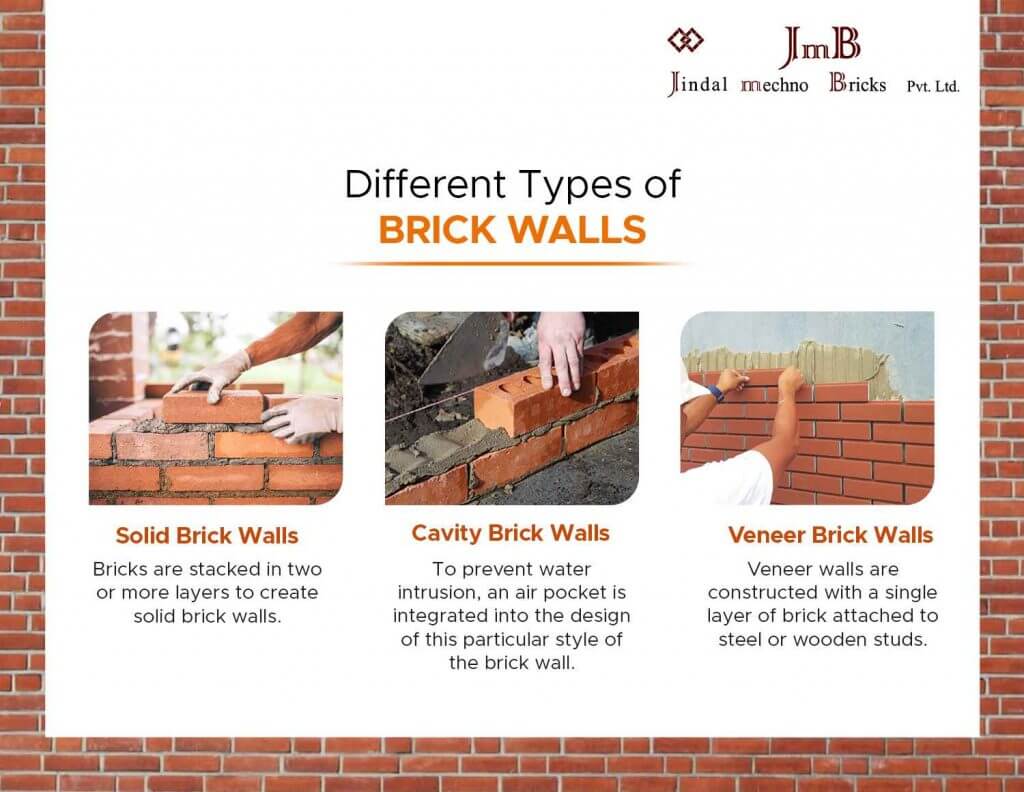 It's crucial to comprehend the three most typical sorts of brick walls before choosing one for a household or business property. Brick walls come in solid, cavity, and veneer types. Each of these alternatives has distinct qualities and advantages.
Solid Brick Walls:
Bricks are stacked in two or more layers to create solid brick walls. Metal ties or header bricks that are positioned perpendicular to the wall hold the layers together. The durability of the brick and mortar used to build the wall, as well as its thickness, determine how strong it will be. Solid brick walls may survive for decades if constructed and maintained properly.
Cavity Brick Walls:
To prevent water intrusion, an air pocket is integrated into the design of this particular style of the brick wall. As a result, it is the greatest choice for constructing brick walls in humid or low-lying areas. A cavity wall often referred to as a hollow brick wall, is constructed with a gap of two to four inches between an exterior layer of bricks and an interior support wall.
The inner support can be constructed out of brick, concrete blocks, or poured concrete. Hollow walls usually contain drainage holes to allow moisture that has accumulated in the air gap to escape.
Veneer Brick Walls:
Veneer walls are constructed with a single layer of brick attached to steel or wooden studs. Wrapping insulation around the studs that support the brick wall can help to improve the minimal insulation provided by this form of construction. Instead of using solid brick, many modern homes employ brick veneers fastened to a wood frame.
Advantages of Exposed Brick Wall Design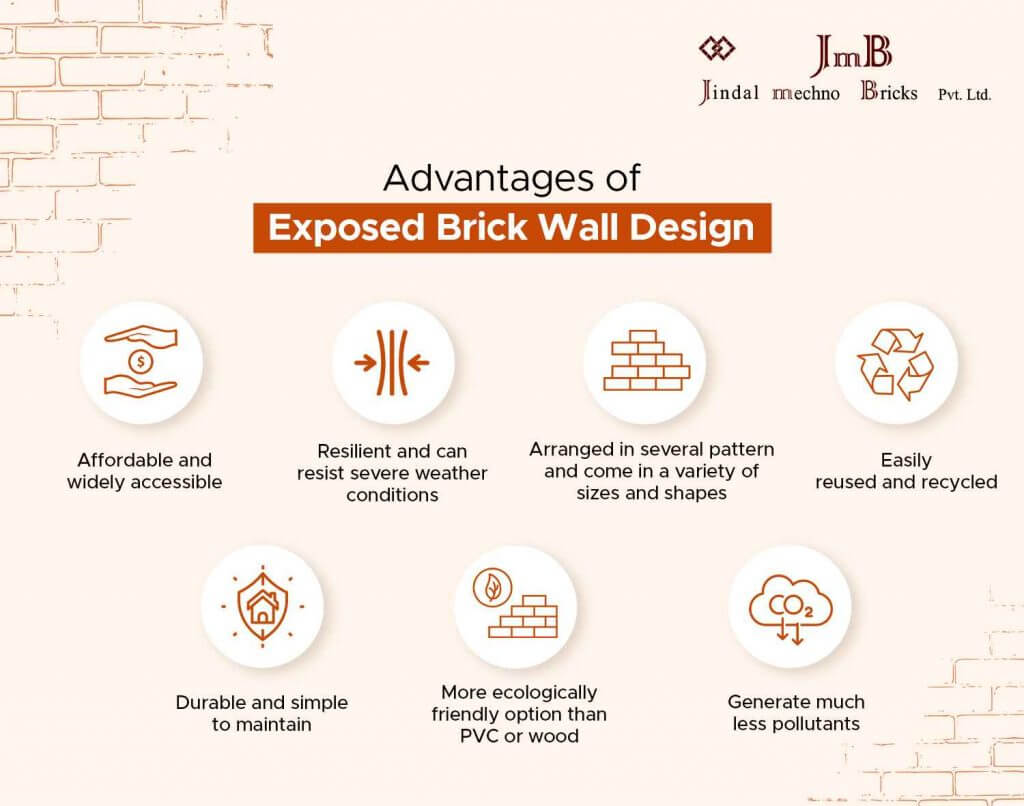 Here are some views in favour of installing a brick wall in your house:
Simply said, any construction's foundation is made of bricks. So it's more affordable and widely accessible.
Brick walls are resilient and can resist severe weather conditions. This is the reason they are frequently used in outdoor brick wall designs.
Bricks may be arranged in several patterns and come in a variety of sizes and shapes. As a result, they make for a fun feature to play with in brick wall interior décor.
They are durable and simple to maintain, which lowers the expense of upkeep.
Bricks can be easily reused and recycled at any place.
The brick wall is a more ecologically friendly option than PVC or wood. Also during the production process of bricks, they generate much less pollutants.
Brick Walls for a Trendier Decor
Brick walls were mostly used in industrial settings and building sites in the past. In general, many felt that they were too rough and impersonal for house decor. However, the rustic appeal of an exposed brick wall has been recognised over time by interior designers.
The famed Soho House in Los Angeles was created by renowned design director Candace Campos. According to Campos, the appeal of exposed brick walls resides in their usage as a primary structural component. There are so many significant historical sites with brick wall pattern designs all around the world. As a result, it instantly gives your exteriors and interiors a historical and industrial feel.
Below we have attempted to compile a list of contemporary brick wall layouts that you may use to give your home a facelift.
Trendy Brick Wall Designs Front House:
Traditional and modern homes each have a certain appeal that comes from brick walls. Brick walls should technically conflict with modern décor, but in recent years, designers have been drawn to this more natural and rustic architectural feature. Of course, you can always experiment with the other elements of the décor to counteract the rustic style. They may fit anywhere and are modelled like the unfinished interiors of industrial structures. Likewise, you may use brick cladding for outside walls to leave all of your visitors and friends completely awed by it!
Exposed Brick Wall alcoves Lend a Hint of Rusticity:
Making an accent wall out of exposed brickwork is one of the most common ways to incorporate a brick wall design into your home's interior design. An exposed brick wall kitchen that also serves as a backsplash gives the otherwise neutral room a raw yet modern aesthetic. It may be used to raise alcoves, beams, or even entire walls to create a wonderful focal point in any space.
Create Unique Brick Wall Patterns using various Bonding:
A red brick wall behind the bed might serve as an accent wall in your bedroom. By using your creativity with the brick bonds, you may boost the design of your brick wall. A brick bond is a pattern used to lay bricks to create various brick wall designs for both interior and exterior use. Running, common, English, Flemish, Header, and Stretcher bonds are the most often used types of bonds.
However, choosing a distinctive design can dramatically change the look of the space. So it is important to consult specialists as each form of bond produces unique brick wall patterns and presents installation and structural issues.
Raw Brick Walls as Accent Walls for Showcasing Art:
In addition to being a striking aesthetic element of any area, exposed brickwork may also be used as a unique backdrop for displaying artwork or decorative items. Don't overcrowd the wall with objects because the bare brick wall already adds visual and tactile depth to the space. A solitary piece of wall art in the dining room in the photograph looks stunning against the nearly rustic brick wall.
Enhance your Living Room with a Brick Wall Design:
Over the past several years, more and more architects and homeowners have used stunning cladding tiles for interior walls to add texture, unique character, and timeless beauty to their living spaces. Some people see the exposed brick wall in the living room as a representation of the building's extensive historical background and a synthesis of the present and the past.
Recreate the look by adding a brick tile wall:
Fake it to make it — if exposing the brickwork or building a brick wall from scratch is not an option, you may get the same effect by using wall cladding tiles with a brick design. These tiles are available in a wide range of colours, finishes, and texture patterns, allowing you to either choose a colour or finish that is less rustic or completely replicate the appearance of exposed brick.
Enhance the Design using Brick Wallpaper:
Similar to brick wall cladding tiles, brick design wallpaper or even foam wall panels with a textured brick wall pattern can be used to imitate a brick wall's appearance. These are easier to install than wall tiles and are available in a wide range of hues and designs. In order to add a brick pattern to the appearance without overwhelming the design of the space, if you are not a fan of a red brick wall design, opt for a neutral colour like a grey brick wallpaper.
A Little Colour Goes a Long Way:
If a raw brick wall is not to your preferences, you may paint the exposed brickwork to complement the colour scheme. Paint the bricks in a calming neutral or perhaps a rich accent colour to improve your wall brick design for your home.
To create a consistent appearance, you may paint the brick wall the same colour as your other walls, or you can make the brick wall stand out by painting it a few shades darker than the walls around it. While a white brick wall may not be as earthy or rustic as a red brick wall, it nevertheless gives the décor a textured, aged character.
Another option is to go with strong, brilliant colours or deep, dark colours, like a black brick wall, when picking a colour for your brick wall. Bright colours make the area more playful, while deeper hues give it a dramatic, elegant appearance. Remember that lighting may alter how you perceive colours in your house. Pay close attention to your lighting in a room with a black brick wall or simply any dark colour as deep colours absorb light. To avoid a dreary appearance, well-placed and adequate lighting will be necessary.
Give the German Smear a Try!
The German Smear method, which is increasingly popular in today's houses and is rich in texture and visual story, is evocative of ancient English cottages. It's an easy trick to imitate — just apply white mortar on the brick surface to give it a purposefully scuffed appearance. Here, the German-smeared brick wall contrasts sharply with the simple, wood-encased couch, adding tonnes of character and rural cosiness.
The Never-Out-of-Vogue Minimal Brick Wall Design:
The demand for minimalist design homes among urban millennials is expanding for a variety of reasons. For today's young adults, especially millennials, living clutter-free comes first. To provide the desired effect while retaining a straightforward style, a whole wall may be coated with white bricks. Both the living room and the home office look great with this brick wall design.
Gray Overtones:
The precise design of a grey brick wall makes it appropriate for the work at hand without being too plain or too earthy. In terms of texture, it mixes the finest brick tiles for exterior walls. The inside of your home will look more sleek and elegant as a consequence. A soft grey sectional sofa would contribute to the atmosphere of understated refinement. Because it matches the colours of the accent wall, an oakwood plank floor might unify the appearance.
Brick Wall Design for Staircase Area:
We frequently overlook the architectural opportunities presented by a staircase sidewall, but not anymore!
An entire brick wall may be used to raise the staircase area. The staircase area gains so much character even from a simple brick wall design. The bold wall along with a black marble staircase make a stunning contrast. With some artwork or wall decorations, you may further accessorize this wall.
You may also savour the simplicity of bricks that are just exposed naturally. This architectural feature has an earthy aesthetic because of the exposed cement and bare brick wall, as well as the rough edges. Including some greenery in this space is usually a good idea. The rustic atmosphere you want is further enhanced by the presence of a window nearby.
You must now have a good understanding of trendy brick wall designs and how to incorporate them into your home's decor. The possibilities then are endless, ranging from classic brick and mortar to painted bricks to the more elegant brick wallpapers!
Seek Professional Assistance to craft your Perfect Brick Wall for Home Interior Design
A textured brick wall can offer rustic charm or elevate your walls without dominating the design, whether it's for your kitchen backsplash or a feature wall in your living room or bedroom. Adding creativity to your design may be challenging and requires special attention. If you're unclear about how to utilize this aspect in your house effectively, you can seek advice from professional designers and experienced contractors to execute the details.
Jindal Mechno Bricks Pvt Ltd supplies the most important component needed to create the perfect brick wall for your rooms that are exactly suited to your demands, lifestyle, and preferences: bricks. It is a leading producer of hollow blocks, unglazed ceramic wall cladding tiles, brick pavers, and machine-made bricks, that may be left exposed without the need to be painted or plastered.
The experts at Jindal Mechno Bricks are aware that architects and designers often have specific design ideas that demand customised sizes, forms, curves, and colours. In the past, they have collaborated closely with architects to comprehend their design needs and match them with the level of customisation to provide the best possible options.
Brick wall design ideas are such creative ways to make your home stand out. Brick walls are a simple and inexpensive architectural tool that may be used to design both indoors and outdoors. Additionally, brick walls need regular maintenance to keep them sturdy and warm.
Choose any one of the above trending brick wall background ideas and modify it any way you like. Brick walls may be styled to seem classic, contemporary, elegant, or just cosy. Brick walls are the simplest approach to acquiring amazing looks at a low cost if you have a limited decorating budget.
Conclusion
If you need assistance decorating your space with a trendy brick wall design, you may seek guidance from interior design specialists who will carefully scrutinise your needs and provide you with the finest design solutions. Furthermore, you may rely on Jindal Mechno Bricks to supply you with the necessary materials, including bricks. They use the latest European technology to manufacture their machine-made bricks, which are formed from raw materials that have undergone rigorous testing and systematic processing to ensure the highest quality. According to them, concentrating on customer satisfaction is the key to achieving business success.